DOWNLOAD
YOUR NEW REEL-TO-REEL MULTICOMPONENT PRODUCTION LINE
The Mühlbauer Group can look back to more than 30 years of experience in the semiconductor industry: During the past decades, we achieved record-breaking results in the handling of smallest devices as well as in micro-chip die sorting.
After the launch of its flexible LED production line TAL 15000_LED back in 2015, Mühlbauer further developed the Multi component and luminaire assembly process towards a universal system: the MCL - Multicomponent Line.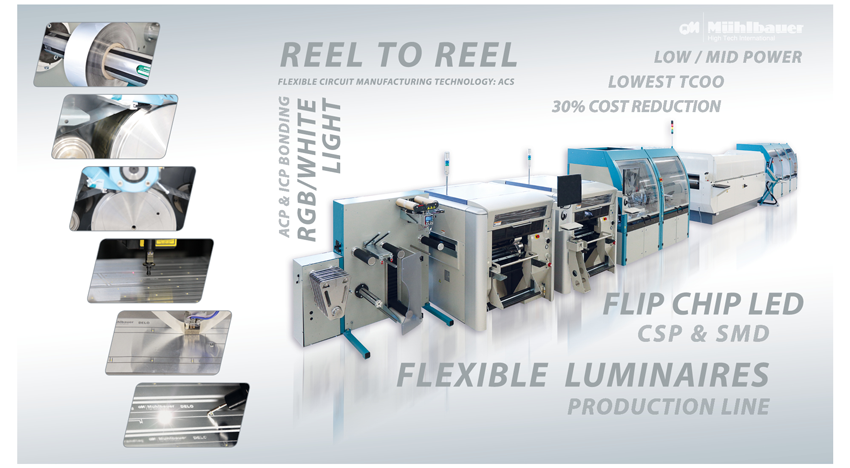 Besides the standard jetting of adhesives such as ACP, now the dispensing of ICPs and/or solder paste is possible, even screen printing is one of our latest developed inline technologies to open higher flexibility.
Furthermore, the component attachment has been simplified and enlarged to achieve a high speed up to 10.000UPH or even 25.000 UPH. Now, a high variety of components can be attached: SMD or Flip Chip dies, CSP or SMD LEDs, sensors, connectors, capacitors or even RFID Flip Chips and other electrical components for final assembly of flexible intelligent electronics, meeting the future trend of IOT.
The curing technology of our Flip Chip Thermodes curing elements have been extended with the possibility to use inline drying oven as well to use both technologies in one shot. The final test station will perform a 100% quality check through component / position inspection of light up check for luminaires to guarantee highest possible output yield.
PROCESS STATIONS OF THE MULTICOMPONENT LINE

A. Spacer Tape Spooler
B. Unwinding
C. Adhesive / Solder Material Dispensing
D. LED and Component Attach
E. Final Curing in Case of ACP
F. Tape Transport Module
G. Buffer
H. Reflow Curing Oven
I. Buffer
J. Glob Top Module
K. Tester and Bad Unit inker
L. Tape Transport Module
M. Upwinding
MORE THAN 50 PERCENT SAVINGS
Advantages of the new process are the achievement of lowest cost of ownership for flexible electronic boards and lowest Lumen/dollar ratio on the market for direct level 2 luminaires, produced in one shot within our high volume Reel to Reel line.
Combined with our ACS, the flexible circuit production line with Aluminium structured foils on PET, a new product can be launched in less than 24 hours.